20/20 Challenge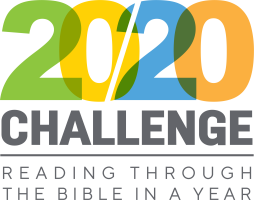 We are reading the entire Bible in 2020! Perhaps you've started previously but found the goal to be overwhelming. We want to set you up to succeed this time, and we're betting on you to do just that! By partnering with the Bible Project you have access to a clearly laid out reading plan, numerous videos to set up readings and help you understand what to expect, and flexible options for succeeding with the schedule. This is what it looks like for you:
Built-in Accountability. All of St. Paul Westport will be reading from the same reading plan.
Discussion Groups. All of St. Paul Westport's small groups will be discussing the readings, talking through difficult-to-understand passages, and highlighting big-point takeaways.
Weekend Messages. The Sunday sermons are dedicated to pulling out particular passages from our readings and expanding on these.
It's More Than a Book. Our reading plan takes us entirely through Scripture in 2020. But the goal isn't just to read the Bible. It's to know the Author. The Psalms are included in such a way to include prayer in our reading times each day.
Links to help get you started:
Reading Plan PDF
Bible Project Website - features videos, reading plan
Suggested Apps for Mobile
Read Scripture App - features videos, reading plan w/ Scripture
Bible Gateway App - excellent audio Bible for when you're on the go
You Version App - A Bible Project plan with Scripture & videos